April 14, 2022
Our Community is Supporting Boundless for Autism Acceptance Month!
April Fundraisers Supporting Boundless

We were simply blown away by the love and support you showed Boundless all March for our "Dare to Be Boundless" campaign featuring t-shirts made for us by Homage, a local philanthropic-minded business that creates specially designed shirts to raise awareness around important causes.

So you can imagine our delight when we discovered no less than FOUR fundraisers happening for Autism Acceptance Month in our community—all of them raising dollars in support of Boundless and the people we serve! 

Two fundraisers are being hosted by local Worthington, OH businesses and two more by very creative individuals from our community. We are so grateful to be part of a community that embraces our mission of "Building a world that realizes the boundless potential of all people." Your support means the world to us!
Highline Coffee Co.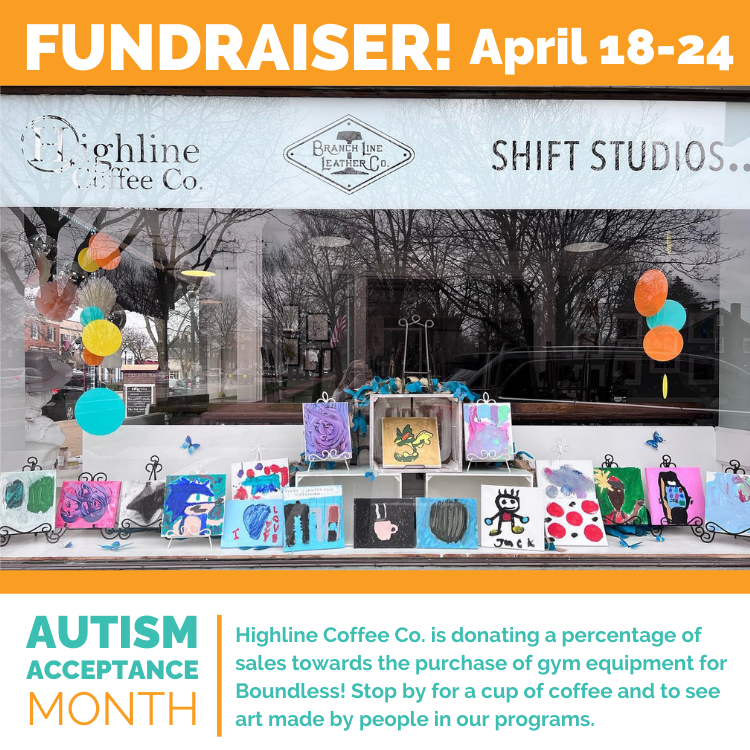 April 18-24
This is the second year we've celebrated Autism Acceptance  Month with our neighbors at Highline Coffee Co.! Once again, they have asked for artwork from people at Boundless to be displayed in their art gallery window. Everyone involved is so excited to have their work displayed for the entire month of April. Next week, Highline is donating a percentage of their sales to Boundless, which will go directly towards purchasing new gym equipment for our programs. 
If you stop by to peek in the window at our art, don't hesitate to go inside for a steaming cup of good, good coffee!
Porch Growler
 April 27
Support Boundless while enjoying a few rounds with your friends at Porch Growler.
Previously, this fundraiser was planned for 2020 but canceled due to COVID-19. We are very excited it's finally happening this year.
On Wednesday, April 27, 25 percent of drink sales will be donated to Boundless, which will also go towards buying new gym equipment.
Stop by for a pint!
MAKERBUG
All April
This fundraiser is being held by the wife of one of our Stepping Forward program team members! She's using her rainbow-splashed "MAKERBUG" Twitch account and huge flair for creativity and fun to raise $500 for art supplies for Stepping Forward.
And guess what—she's already more than halfway there!
Puzzle Pillows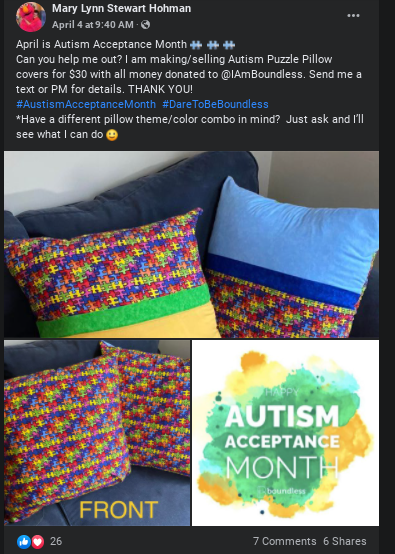 All April
Last but certainly not least, one of our fantastic board members, Mary Lynn Hohman, is making these pretty, puzzle-patterned pillows (say that five times fast) for Autism Acceptance Month, with all proceeds going to Boundless!
Her Facebook post has already gotten quite the response, with friends admiring her sewing skills and making pillow requests. 
Thank You!
We want to send our sincerest thanks to Highline Coffee Co, Porch Growler, MAKERBUG, and Mary Lynn Hohman for making Autism Acceptance Month special this year. We are so grateful for the time and creativity you have put towards finding unique and fun ways to support our programs!
Share on Social
If you participate in any of these events, take a picture of yourself with your friends and your pints, in front of the art gallery with your coffee, the fun craft you made, or with your new pillow! Post your pictures to social and tag Boundless, because we would love to see them. 
You can also support local and support Boundless by sharing the news about these amazing fundraisers.
Thank you for your support!