July 26, 2021
Healthcare Veteran Joins Boundless
Leadership
News
Press Releases
Experienced healthcare operations professional appointed to first-ever Boundless post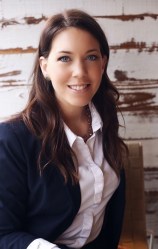 For more than 40 years, Boundless has provided person-centered care, including residential support and vocational habilitation, autism services, psychiatry, counseling, and other resources to people with intellectual and developmental disabilities (I/DD) and behavioral health challenges. Now, it has expanded its executive leadership team to include operations expertise from one of Ohio's very own healthcare professionals.
Anna Wuerth, a proven authority in healthcare operations, joins Boundless with 15 years of practice in the non-profit sector. Driven by the desire to provide marginalized and underserved communities with high-quality care, she became a licensed independent social worker after obtaining her master's degree from The Ohio State University.
"We're so excited to welcome Anna as the first executive director of Boundless Health," said Dr. Patrick Maynard, president and CEO of Boundless. Her experience with complex medical organizations, along with her passion for working with underserved communities, makes her a perfect fit."
As executive director of Boundless Health – the newest addition to the Boundless family of companies – Wuerth will lead and manage the daily operations and staff of its health center and primary care clinics. She will collaborate with the medical director and other senior staff to implement the organization's strategic and operational plan, fulfilling Boundless Health's mission and vision.
Prior to joining Boundless, Wuerth served as director of healthcare operations at Equitas Health and led the opening of three community health centers and championed the achievement of the Federally Qualified Health Center Look-Alike (FQHC-LAL) designation. During her tenure as project director of the FQHC-LAL, she supported the development of new service lines including primary care, psychiatry, dental, HIV specialty care and LGBTQ services.
"As we prepare to introduce primary health and dental care services to the list of services offered by Boundless this fall, I know that the people we serve are in good hands," adds Maynard.
Boundless addresses a critical need for care among people with I/DD and behavioral health challenges. With the support of its partners on the federal, state and community levels, it continues to expand service offerings to close the gap in health disparities in the service area. Boundless is in a unique position to address these needs, given its successful history of serving the most vulnerable communities.
About Boundless
Founded in 1980 as Franklin County Residential Services, Boundless has grown from a modest organization into a dynamic family of non-profit companies spanning more than 50 Ohio counties providing children, adults and families with I/DD and behavioral health challenges the freedom and opportunity to live boundless lives. The Boundless mission is to build a world that realizes the boundless potential of all people.